Hi Everyone!
Pre-orders for Sugar Hero are now officially open! The print comes in three designs and three colourways (JSK, halter and skirt in pinkxwhite, pinkxblack and mintxblack).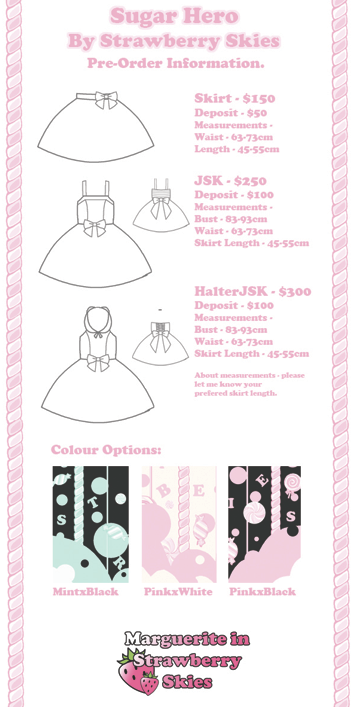 Head bows and tote-bags are also available to those who order a main garment.
Head Bow - $USD35
Tote Bag - $USD30
To order please fill out the order form and comment here or email: margueriteinstrawberryskies@gmail.com
Your name:Location:Paypal:Style:Colour:Skirt length:
If you require a larger or smaller size please ask! Custom sizing is available :)
Spots are very limited! I will only be taking 15 orders!
1. taken
2. taken
3. taken
4. taken
5. taken
6.
7.
8.
9.
10.
11.
12.
13.
14.
15.
Please read before ordering!
Terms of service:
By ordering from Strawberry Skies, you are agreeing to these terms of service.
1. Payment is by paypal only
2. All prices are in $USD
3. Deposit is non-refundable
4. Strawberry Skies takes no responsibility for wrong choice of colour, size or garment.
5. Returns should be made within three weeks of receiving the item and all returns should be in a new with tags, unworn condition. Customers will be refunded for their second payment only, this will happen once the garment is back in Strawberry Skies' possession.
6. Lost packages are not the responsibility of Strawberry Skies if shipping insurance is not purchased.
7. Deposits must be paid within 3 days of ordering. Upon ordering you will be invoiced for your non-refundable deposit. This deposit will cover material costs.
8. Final payments + shipping must be paid before the garment will be shipped.
Our Guarantee:
Strawberry Skies promises to provide a friendly service and produce quality products. All garments are original designs made from 6 ounce 100% cotton, fully lined and finished with high-quality lace. All garments will be made by the designer, Manon Marguerite, and shipped ASAP with shipping of the buyers choice.
Shipping:
Within Australia:
Insured: $USD16
Uninsured: $USD10
International:
Insured: $USD40
Uninsured: $USD30
PRE-ORDERS CLOSE: Aug 29th 2010
Orders will be shipped around Late September / early October
Stock photos can be found
here
and the Sugar Hero photoshoot can be found
here
.
My EGL
Feedback
.
My sew_loli
tag
.
Questions, comments and concerns can be posted as a comment here or emailed to margueriteinstrawberryskies@gmail.com
:3