Everyone knows Summer is the hardest season for wearing lolita and there's nothing worse than smelly tea-party shoes (ew!) so the solution? Crew and ankle socks!
Socks are an important part of any lolita coordinate and can really add a unique touch to your every-day wear as well! Personally, I love wearing socks with pumps and ballet flats.
In Angelic Pretty's 2010 Milky Berry photo shoot, they coordnated the print with adorable lace-top and strawberry ankle-socks which looks perfect for summer - and it is! This is one of my favorite summer prints!
(c) Angelic pretty 2010
They also released these more 'hime' lolita lace-tops later in the year:
(c) Angelic Pretty 2010
Cute lace-top socks have been a popular choice for warm-weather lolita for a long time, but in 2010, we saw the rise of 'invisible' socks!
Here's an exaple of invisible socks from Swimmer:
(c) Swimmer/Electric Alice 2010
These invisible socks are comfortable and cool to wear - which is a big bonus if you live in Australia like me. They also look really cool and quirky, leaving stripes, apples, hearts or spots 'floating' on your feet! Luckily for us lolitas and strawberry-fashion-lovers, cute socks are really coming into mainstream fashion, I even found a few pairs of 'invisible' socks at Sportsgirl!
Here's me wearing the Cosmos Layer JSK I made for
Halloween
and a pair of stripy-pink invisible socks from Sportsgirl!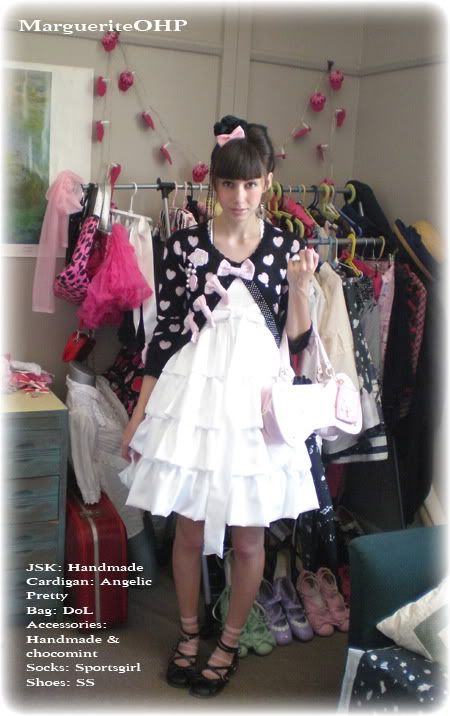 So, have you braved the heat (or will you) with knee-high on OTK socks this summer or did you switch to ankle socks?
xx